Türkiye'de Mostbet
her gün spor bahisleri yapan ve evlerinden çıkmadan çevrimiçi kumarhaneler oynayan çok sayıda hayranı var.
8 Tips on Choosing the Right Ceiling Fan
Ceiling fans come in a variety of styles and options to choose from. From ceiling fans with lights to outdoor ceiling fans with a remote, there's so much to consider when choosing the ceiling fan that will work with your living space.
Here are 8 important factors on how to choose a ceiling fan:
1. MATERIALS
If you're looking for an outdoor fan, pick those with rust-free finishes and blades that won't warp. This is especially important for humid and tropical environment.
2. SEASONAL FEATURES
If you live in warmer climates, go for fans with a downdraft mode, in which blades run counterclockwise to circulate cooler air. For keeping warm in colder weather, you want a fan whose blades run clockwise, forcing warm air down. Many fans come with reverse switches near the motor housing that allow for both features.
3.SIZE
Choose the right size to suit your room; often times, the largest possible fan is best. Sizes generally run from 36 to 60 inches, with 42-inch and 52-inch fans being the most popular. If you're cooling a large, rectangular room, two evenly spaced distribute air.
4. CEILING HEIGHT
The recommend fan-to-floor distance is usually nine feet. Tall ceilings may require an extension or down rod to make the difference, while fans with low ceilings can be flush-mounted without a down rod.
5. POSITIONING
If you have a sloped ceiling, opt for models featuring a versatile "tri-mount" models that can be installed in any application (downrod, flush-mount or angled).
6. BLADES
Most fans have four or five blades: anything more or less is considered more decorative. Look for a balance between functionality and aesthetics; an uneven number of blades, for example, can be less effective.
7. CONTROLS
Consider any power, speed and lighting controls you may need. Some models offer the old fashioned pull chains; while others rely a wall-mounted control (others may have both). Many newer or more contemporary models offer handheld remotes.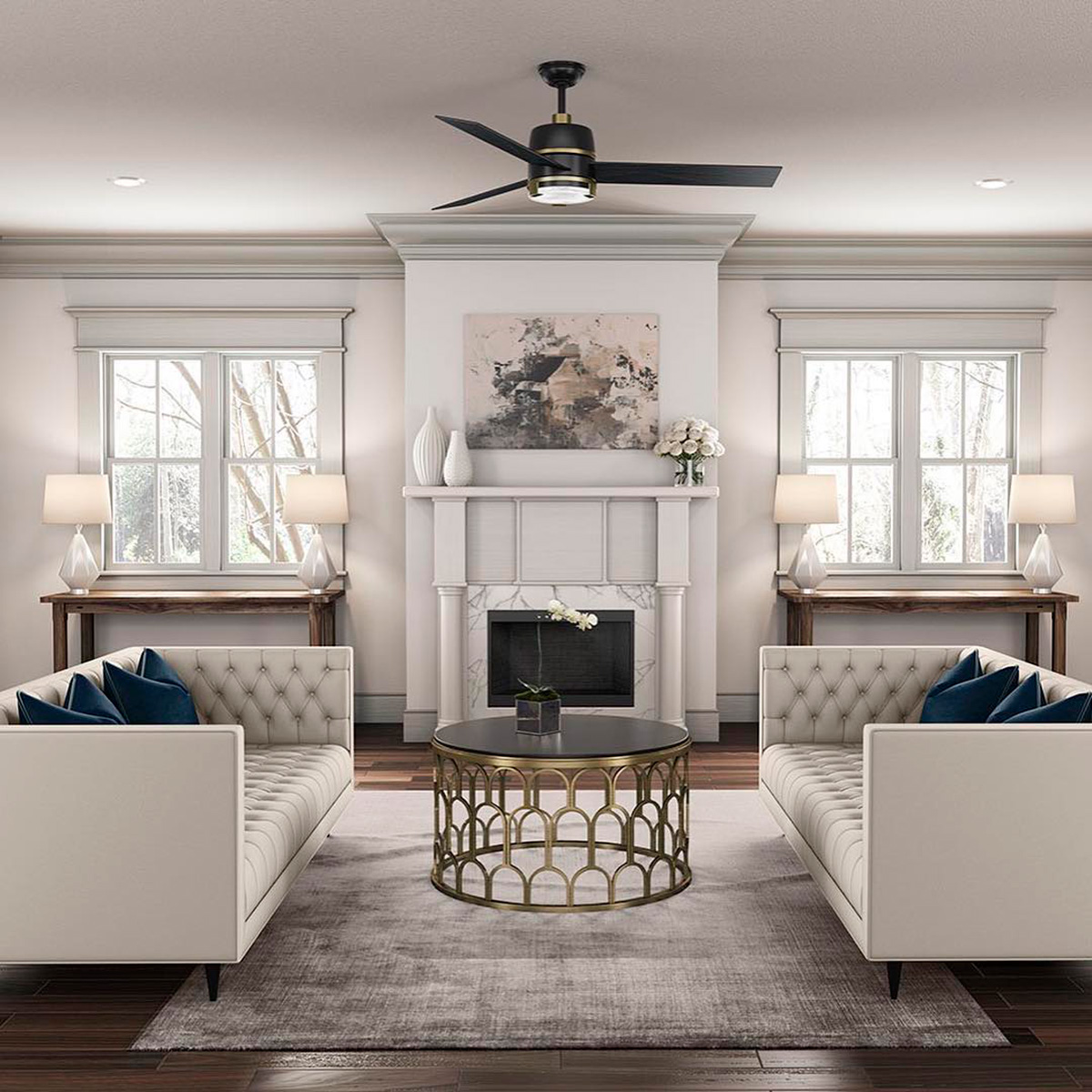 8. LIGHTS
Many fans come with built-in lighting or light kits. This is an essential option if your room needs a little more lighting or if you plan to replace a light fixture with a two-in-one option.
By keeping all these important factors in mind, you can find the right ceiling fan for your needs. To browse a wide selection of ceiling fans, go to Farreys.com or visit a showroom nearest you.